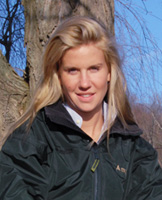 Amanda Starbuck
Co-Owner and Trainer
Ask Amanda Starbuck what horseback riding can teach a person and she doesn't hesitate to answer.
"Responsibility, confidence, balance … being organized, kind, natural … learning how to deal with diversity, how to win or lose," says Starbuck, a co-owner and head trainer at Starbuck Equestrian. "It's teamwork between the horse and the rider."
Starbuck should know. She grew up with horses on her family's farm, learning to ride at a young age and going on to become one of the country's best a junior, then amateur riders before turning professional in 2007. Since then, Starbuck has continued to make her mark as a pro, winning titles and recording top-three finishes at a number of prestigious events.
Starbuck's list of accomplishments is lengthy and diverse. As a junior rider, she won the Connecticut Medal Finals and placed in every national championship class for both equitation and high junior jumpers. She finished second at the Senators Cup at the Washington International Horse Show.  She finished first at the New England Horsemen's Adult Medal Finals. She competed in the North American Young Riders winning Champion as well as competing for the Team championships.
Starbuck also won three consecutive Professional Horsemen's Association of America awards — one of the most prestigious honors in junior riding.
After being named the Breyer Junior Rider of the Year while in high school, Starbuck continued her riding career at the University of Vermont. She won the Intercollegiate National Championship in both the open flat and open fences classes at the Olympic Horse Park in Atlanta.
In 2001 and 2002, Starbuck added two more prestigious awards by riding Rio Bronco to back-to-back National Amateur Hunter Championships for the year end award, Champion at the National Horse Show, Grand Champion at the National Horse Show and Horse of the Year title where she was the cover for USA Equestrian magazine.
Competing as a pro, Starbuck has won five United States Equestrian Federation Silver Stirrup National awards for performance in the young jumper divisons. Recent victories include first-place finishes at the New Jersey Horse Park Grand Prix and the Vermont Summer Festival Kate Spade Welcome Stake. She also placed second in the Ox Ridge Grand Prix, second in the Princeton Grand Prix, third in the Vermont Grand Prix and third in the Saratoga Grand Prix which were all National Standings Grand Prix.
All told, Starbuck has won 6 North American titles, 20 national championships and 30 zone/regional year-end titles.
Starbuck loves riding horses, but she also loves teaching others how to ride them.
"Our job as trainers is to form a successful partnership between the rider and the horse," she said. "The important part is understanding how much the rider can understand because of his or her age.
Many of those riders who Starbuck has trained have gone on to win local, state, regional, and national ribbons.
"I love it when they get it, and I see it in the show ring," added Starbuck about the young riders she trains. "When they process and carry into their training and showing the things we have been working on and succeed … that is a great pleasure to watch."
Notes: Starbuck has a bachelor's degree from the University of Vermont, where she majored in applied economics, double minored in advertising and marketing with a concentration in small business.
She was instrumental in the coordination of the Southwest Connecticut Girl Scout Council riding program and the Westchester (N.Y.) Girl Scout council badge program.
Actively involved in several charities and philanthropic organizations, Starbuck heads the Wildlife Conservation Society's branch at the Central Park Zoo in Manhattan.