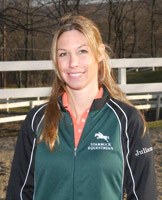 Juliana Starbuck
Co-Owner and Trainer
Ms. Starbuck successfully represented Connecticut in the 2000 Olympic Show Jumping Selection Trials, held at the United States Equestrian Headquarters in Gladstone, New Jersey, reaching the final selection trial that year. In addition to her extensive jumper background, Juliana continues to be nationally ranked in the top ten in the four-foot hunter division. She has competed in the four-foot hunter division at the National finals for the last three years running.
As a junior rider, Ms. Starbuck was the only rider in the United States to be in the top six placings at all the national equitation finals including: the United States Equestrian Medal Finals, ASPCA Maclay finals at Madison Square Garden, and the Washington International Equitation Medal finals. She is also the winner of the Connecticut State Finals in 1991, and is, along with her sister, one of only two riders to ever have won the Professional Horseman's Equitation finals three years in a row. In 1993, she was the only rider to ribbon in both major equitation finals including pinning fourth place in the USEF Medal Finals and sixth place in the ASPCA Maclay finals respectively.
Juliana holds a Masters degree in Health Science from Lynchburg College. She rode for Lynchburg College in the Intercollegiate Horse Shows Association Open division where she won the IHSA Zone finals in 1995. She continues to train young horses bringing them into the show ring in both hunter and jumper divisions.